Expert Christmas Landscape Light Designer Serving Bend, Portland, and Salem, Oregon
Transform your home this holiday season with our top-notch lighting services! Since 2006, we have been spreading cheer and illuminating the night by providing energy-efficient LED holiday light installations from simple eave lines to extravagant Griswold's displays. Our experienced team proudly serves Bend, Sunriver, Portland, Mcminneville, Beaverton, Salem & Eugene – so light up your holidays today!
Get A Quote For Installation
Christmas Lights Factory was established in 2006 by Brennan and Melody Morrow. With their Solar Light company, they were already bringing light to people's lives with the energy-efficient Solatube product line.
Continuing that tradition, Brennan and Melody helped pioneer the LED holiday lights movement by starting one of the first LED only holiday lighting business in Oregon.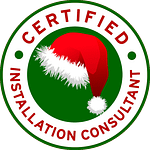 Certified Premier Service DESIGN
Your own personal designer will assess your space and create a custom lighting display that brings your vision to life. INSTALLATION
No mess, no interruptions, no hassle. Our installation team gets your lights up quickly and efficiently; you don't even have to be home.
BEAUTIFUL
Enjoy a worry free holiday experience, complete with the stunning display custom made for your home. Yes, you're allowed to say WOW every time the lights come on. It's a part of the fun.
QUALITY ASSURANCE
From the moment your lights are installed, we guarantee to light up your holiday season. Something not quite right? Call us and we'll be there within 24 hours. You'll never have to change a bulb again. TAKE DOWN
When the season's over, the hassle free experience continues. We'll take off your lights and leave your home clean and free of any damage. We even schedule a complimentary inspection to ensure we've left your home better than before.
With certified installation experts professionally installing holiday lighting displays, we are a leader in commercial and residential lighting. 
​Some of our Trusted Clients